Disney has showcased a range of animatronic characters and robots over the past fifty years. New robotics research fuses animatronics with AI and materials science. So will we see bots take over theme parks?
Robots are nothing new for Disney. Ever since the development of Disneyland in the early 1950s, Disney Research, Imagineering, and its predecessor WED Enterprises, have accelerated many advances in theme park technology and innovation.
Aside from the droids of Star Wars: Galaxy's Edge, Disney is working on robots that walk like cartoon characters, as well as soft-body bots and storytelling robots. We're looking forward to seeing the stuntronic acrobat robot Spider-Man swing over the Avengers Campus.
So let's take a closer look at seven ways that Disney is set to change the attractions industry with robots, as well as exploring some other developments in robotics from around the world.
1. Are soft-body robots future cast members?
Disney has been working on robots for several years. Back in 2017, the company filed a patent for soft-body robots that reads: "Robots can be found providing interactive guidance or entertainment in stores and amusement parks and in more dynamic settings."
It goes on to call for "a robot that will move and physically interact like an animated character". But could these robots actually replace cast members in costume? After all, character appearances are an integral part of the Disney experience.
The robots that Disney wants to patent would be soft-body versions "designed for reducing collision impacts during human interaction". Disney's robot character patent application features a prototype sketch resembling Baymax's body from 2014 movie Big Hero 6.
The application describes air or fluid-filled pliable chambers that form the body of the bot. The robot would be able to sense pressure on each chamber. It would then adjust the amount of air or water to respond to a child's hug or accidental collision.
Want soft-body robots that move convincingly, walk on four legs or even have tentacles? Disney is also working on what it calls' Automated Routing of Muscle Fibers for Soft Robots' – this is a "computational approach for routing thin artificial muscle actuators through hyperelastic soft robots, in order to achieve a desired deformation behaviour."
2. Will Disney's stunt robot Spiderman change the way characters move through theme parks?
Disney has created an animatronic Spider-Man who will soon be swinging above Avengers Campus at Disney California Adventure. Currently, the theme park remains closed in California, causing delays to Avengers Campus, which was originally set to open in summer 2020. Visitors will be able to see Spider-Man daily in Hollywood Land when Disneyland Resort reopens.
Disney has also shared a video, above. Here, Spider-Man is practising some of his acrobatic feats at a 'top-secret location'. Spider-Man will fly through the air in his new suit. This is exclusively designed by Ryan Meinerding, head of visual development at Marvel Studios.
The Spider-Man figure is the animatronic acrobat robot that Disney Research has been busy developing for the past two years. In 2019, Disney filed a patent application hinting at a breakthrough in the 'stuntronics' programme, which involves robots performing acrobatic stunts. Stuntronics could change the way that characters move through Disney theme parks.
Stuntronics
The humanoid robot can perform stunts like a human stunt performer. Another video, below, shows the figure launching into the air from an aerial swing. It then performs several flips before landing in a net. The robot keeps control of pose, rotation and centre of mass throughout the movement. It can perform aerial tricks accurately and on target, all while holding heroic poses in the air.
he 'stuntronics' programme came out of the 'stickman' research project. This, in turn, came from BRICK (Binary Robotic Inertially Controlled bricK). BRICK involved a metal brick with sensors that could change its centre of mass to control its spin to hit a specific orientation at a specific height. In other words, to 'stick the landing' every time.
Robots and Avengers at Disney
"So often our robots are in the uncanny valley where you got a lot of function, but it still doesn't look quite right. I think here the opposite is true," said Morgan Pope, an associate research scientist at Disney.
"When you're flying through the air, you can have a little bit of function, and you can produce a lot of stuff that looks pretty good, because of this really neat physics opportunity — you've got these beautiful kinds of parabolas and sine waves that just kind of fall out of rotating and spinning through the air in ways that are hard for people to predict, but that look fantastic."
Avengers Campus will house various new experiences, including an attraction at the Worldwide Engineering Brigade (WEB) where guests can sling webs alongside Spider-Man. Avengers Campus is also opening later at Disneyland Paris.
3. Will robots with a 'lifelike gaze' win the trust of guests?
Disney recently unveiled a robot that can imitate human facial movements, or a 'lifelike gaze', as part of its paper titled 'Realistic and Interactive Robot Gaze'. Disney has created a system that perceives and identifies people in the environment. The system then selects an appropriate gaze behaviour and performs precise motions.
The humanoid animatronic bust can mimic motor and attention behaviours. It features a layering of simple motor movements to create increasingly compound behaviours. These realistically react to stimuli in the environment. Disney will potentially use this technology for animatronic characters. These could feature at its theme parks in Florida, California, France, Hong Kong, Tokyo and Shanghai.
The system results in an interactive experience between humans and robots featuring human-like gaze behaviour in the animatronic bust, which has a sensor in its chest. Engineers at Disney Research and Walt Disney Imagineering, and robotics researchers from the University of Illinois, Urbana-Champaign and the California Institute of Technology developed the robot.
Realistic robot gaze
Disney Research explained in its paper: "Gaze has been shown to be a key social signal, shaping perceptions of interaction partners. For example, people who make more eye contact with us are perceived to be similar to us, as well as more intelligent, conscientious, sincere, and trustworthy."
"Furthermore, gaze appears to also convey complex social and emotional states," it adds. "Given the importance of gaze in social interactions as well as its ability to communicate states and shape perceptions, it is apparent that gaze can function as a significant tool for an interactive robot character. Thus, the aim of this work is to develop a system to emulate human-like mutual gaze."
Will combining the lifelike gaze technology with AI emotional conversation get us towards a Westworld experience?
4. Can AIs learn to chat with emotion?
Will we soon be able to chat realistically with robots?
Disney is now working on "Dynamic Emotional Language Adaptation in Multiparty Interactions with Agents", in an attempt to create a more realistic, empathetic and believable dialogue that is "not only relevant but also emotionally appropriate and consistent."
This innovative system will try to gauge the emotional state of the person talking to it. It will then adapt its dialogue in response.
The paper says that "implementing emotionally-appropriate language has been shown to increase rapport with users, which is likely to improve both short- and long-term interactions, effectively building a relationship between the agent and the user."
This ultimately "creates a conversational foundation of empathy and trust."
5. Force for Change: Robotics outreach with Disney
Disney has also teamed up with Lucasfilm and FIRST once again for the 2020/21 youth robotics season, First Game Changers, powered by Star Wars: Force for Change. The announcement video featured some of the cast of Star Wars, including Mark Hamill (Luke Skywalker) and Joonas Suotamo (Chewbacca).
In this year's season, students from around the world will compete in robotics challenges, exploring what it means to be 'forces for change'. The ongoing partnership with FIRST enables Disney and Lucasfilm to offer access to science, technology, engineering and maths (STEM) learning to more young people.
Star Wars: Force for Change is a philanthropic initiative providing students with financial, in-kind and mentorship resources. Walt Disney Imagineering has provided sponsorship and mentorship to FIRST for more than twenty years. This provides educational opportunities featuring the characters, stories and experiences of Star Wars. Some of these are inspired by the world of Star Wars: Galaxy's Edge.
"We are thrilled to collaborate with FIRST again this year and engage young people in STEM learning," said Lucasfilm president Kathleen Kennedy. "Educating our youth and providing access to FIRST programs for students of all backgrounds has never been so important as it is right now. I can't wait to see the talent and potential this new season brings."
6. Interact with animatronic robot Vyloo at Disney California Adventure
Disney introduced the Vyloo – three small alien creatures that appeared in Guardians of the Galaxy Vol. 2 – to Disney California Adventure in 2018. An onboard system powers the autonomous Vyloos. They display moods and can interpret non-verbal gestures and cues when they interact with visitors.
"What we pitched was a project to try to bring small autonomous animatronic creatures to life. We were really interested in the idea of creating some little guys that could truly respond to and interact with guests," Leslie Evans, a senior research and development Imagineer at Disney, told TechCrunch.
"I think that a lot of this was coming out of this desire to start thinking about animatronics as actors, so being able to say we want these characters to be shy, we want them to be outgoing – trying to define them in terms of personality – and then translating all of that into the technical tools that we need to bring the characters to life."
The robotic unit is a log with the three Vyloos sitting on top of it, with sensors and cameras. All of the parts that they need to run are stored within their bodies or the log structure.
Autonomous robots at Disney
Other robots do exist in Disney parks. The majority require attachment to external systems that control or manipulate them. However, the Vyloo operate autonomously. Staff can also adjust their parameters easily to create new experiences and personalities for guests to interact with.
The project started as an attempt to create an autonomous robot that could also create an emotional reaction in visitors. The Vyloo featured in Guardians of the Galaxy after director James Gunn saw the prototypes when visiting Disney Imagineering.
"Our characters right now give very polished, perfect performances, but they really are a loop in the sense that they don't really respond to the guests, so bringing the characters down so they know the guests are there and actually respond appropriately," said Alexis Wieland, executive research and development Imagineer at Disney.
"To stay in character is a big part of what we were trying to pull off here, and so moving in that direction is a big part of it. How do we make our characters more visceral in the moment with the guests?"
7. Will Disney robots learn to sculpt and fabricate theme parks?
But Disney Research is not just looking at visitor-facing robots. The latest publications show recent advances in robotic sculpture and fabrication. For instance, there are now robots that can sculpt clay.
This interactive design system begins with an input mesh and is then able to calculate the best cutting path for complicated and curves shapes, like faces and eyes. Users can also select from a variety of different sculpting styles. The final piece is carved by a 6-axis robot are.
Robots are also being developed to fabricate structures, bending and welding metal.
More than Disney: other robots transforming attractions around the world
Disney, however, isn't alone in developing robot technology. Robotic dolphins could soon replace captive animals, and robot staff are already working at hotels and restaurants. They are also making appearances at museums and theme parks, aiding people with disabilities, and helping with health and safety amid COVID-19.
Foodservice robots
Robot.He is a seafood restaurant in Alibaba's Hema Supermarket in Shanghai. This uses a combination of automated robot services guided by QR codes to offer a dining experience that is almost entirely free of humans.
Service at Robot.He is powered by conveyor belts, robotic arms and mobile carts. Meanwhile, seating, ordering and payment all takes place via an app.
Everything is controlled by software that reads QR codes that have been input by customers. Visitors use a kiosk to arrive and pick their table. They scan the QR code on their phone to let the system know where they'll be sitting. They then walk around the supermarket and pick out their choice of fresh seafood. At the checkout, they scan the QR code again.
The food is bagged and attached to a conveyor belt. Following this, a robotic arm transfers it to a fridge to stay cool until it's ready to be prepared. Customers then go to their table. Here, they can also choose additional dishes from a menu on the app. Human chefs cook the food and then place it on robot carts. These transport it to the customer's table where a pod opens up for them to get their meals.
Robots in hotels of the future
Elsewhere, Alibaba Group's futuristic FlyZoo Hotel in Hangzhou, China features robot staff delivering cocktails and fresh towels. FlyZoo Hotel serves as an incubator for technology that Alibaba plans to sell to the hotel industry in the future.
Andy Wang is CEO of Alibaba Future Hotel Management. He said: "It's all about the efficiency of the service and the consistency of service. The robots are not disturbed by human moods. Sometimes, we say we are not in the mood. But the system and the robot will always be in the mood."
In 2018, Dutch-themed theme park Huis Ten Bosch revealed that it would use AI and robots to replace two-thirds of the park's workforce. Huis Ten Bosch president Hideo Sawada said: "There will be no decline in the quality of service our customers demand. I want robots and AIs to handle simple tasks, leaving the humans to do more creative work."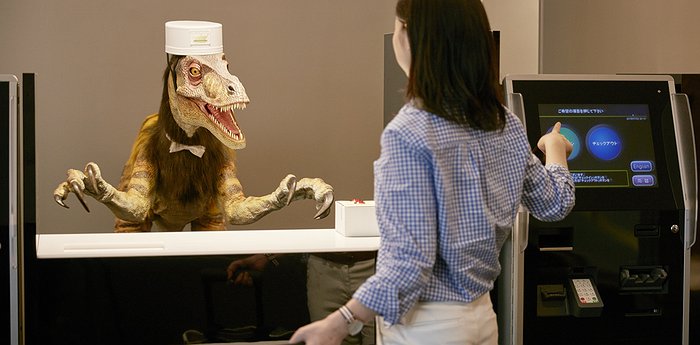 The Henn na Hotel at Huis Ten Bosch previously has an almost entirely robot staff. Here, dinosaurs and humanoid figures greeted visitors. Guinness World Records recognised the building as the world's first robot-staffed hotel and plans were revealed to open even more in 2017. However, the hotel later revealed that it would fire almost half of the bots. This was because they caused more work for human staff.
Who knows, perhaps the future will hold robots in Disney hotels too?
Robots at museums
The University of Oxford previously showcased art created by the world's first ultra-realistic AI humanoid robot artist. The name Ai-Da comes from the British mathematician and computer pioneer Ada Lovelace. Ai-Da uses a robotic arm and pencil to draw what she sees using cameras in her eyeballs. Artificial intelligence algorithms created by scientists at the University of Oxford help to produce coordinates for her arm to create art.
The exhibition presented a selection of Ai-Da's artwork, including drawing, painting, sculpture and video art. It explored the boundaries between AI, technology, and organic life, as new technologies develop rapidly.
Ai-Da is the brainchild of Aidan Meller. He told CNET: "We didn't want to go down the simplistic route. We realized that if we did that, people just say it's an expensive printer. No, this is an AI algorithm, it is entirely creative – we do not know what the outcome will be."
Meanwhile, there are also plans for a Robot Science Museum, built by robots using robotic construction techniques and drones, in Seoul, South Korea. Robots are also 3D-printing the concrete landscaping around the museum. The project uses drones for mapping, site inspections and to control robotic construction vehicles.
The Robot Science Museum will start its first exhibition with its own construction by robots on-site. It is likely to open in 2022.
Robot theme parks
Disney isn't the only theme park to feature robots. In fact, one new theme park in South Korea is entirely dedicated to intelligent robotics.
Gyeongnam Masan Robot Land is located in the city of Changwon, on the southeast coast of South Korea. It includes a research and development centre, convention centre and theme park. The theme park's main attractions combine robotics technology and entertainment, to provide a unique experience for visitors.
Cruelty-free robot dolphin shows
Special effects company Edge Innovations has created a robotic dolphin that could replace live cetaceans in captivity in aquariums and theme parks across China. This comes amid the country's extensive bans on the wildlife trade in response to COVID-19.
The realistic swimming robot dolphin was designed and built by special effects technicians from Edge Innovations, as well as Walt Conti and Roger Holzberg, former creative director and vice president at Walt Disney Imagineering.
The dolphin weighs 595 pounds and has a battery life of around 10 hours. It can survive in a saltwater environment for approximately 10 years. The robot simulates the movements and appearance of an adolescent bottlenose dolphin. It features a realistic skeletal and muscle structure and accurate weight distribution.
An operator controls the dolphin and it responds in real-time to commands and interactions. A new aquarium in China is developing and testing the system.
The concept was first tested more than 20 years ago at The Seas with Nemo & Friends, formerly known as The Living Seas, at Walt Disney World's Epcot. The robotic dolphin, known as the Dolphin Robotic Unit (DRU), could swim around the tank and interact with real divers. It featured in an interactive experience at Castaway Cay.
Robotic dolphins and other marine animals may be a solution for aquariums and theme parks that use captive whales and dolphins, as they are met with growing pressure from companies such as Qantas, British Airways HolidaysandVirgin Holidays.
Robots to feature at the Tokyo Olympics
Robots also made a brief appearance at a pop-up café in Tokyo, Japan in 2018. The OriHime-D robot waiters, developed by Ory Lab Inc, were all remotely controlled by people with physical disabilities, including amyotrophic lateral sclerosis (ALS). The controllers directed the robot waiters from home using tablets and computers.
Kentaro Yoshifuji is the chief executive officer of Ory Lab Inc. He said: "I want to create a world in which people who can't move their bodies can work too."
The creators of the café are raising money through a crowdfunding campaign to open a permanent version. Masatane Muto is an ALS patient and one of the organisers of the project. He said: "Everyone should have the freedom to work in the way they like. I want to send out the message toward 2020 that you can show hospitality even if you have disabilities."
The Olympic Games Tokyo 2020 previously launched its Tokyo 2020 Robot Project, which will see innovative bots assisting wheelchair users at the Olympics. Toyota Motor Corporation is the developer behind both The Human Support Robot (HSR) and The Delivery Support Robot (DSR).
HSR is a small bot with facial features and an extendable gripping arm. It will carry food and other goods, guide people to their seats, and provide event information.
Health and safety robots
One development that could prove helpful to theme parks like Disney is robots which can keep areas clean and safe, particularly in the wake of COVID-19.
DOF Robotics, a producer of dynamic simulation platforms, has developed autonomous disinfection robots to support medical workers during the pandemic. The robot is suitable for hospitals, hotels, and other public spaces. The bots use UV-C LED, which is six times stronger than fluorescent UV lamps.
The disinfection robot can work for eight hours on a single charge. It can also navigate back to its charging station when battery levels are low. It uses cutting-edge mapping technology to clear a space without any collisions. DOF Robotics also designed a manual version that cleaning staff can operate with a tablet.
Meanwhile, KT Corporation, the largest telecommunications company in South Korea, is also providing a self-driving disinfection robot service at KidZania Seoul.
KT's self-driving disinfection robot, 'Campion', uses advanced indoor self-driving technology to spray disinfecting solution. It also radiates longwave UV light (UVA) and shortwave UV light (UVC). KT Corp controls Campion's disinfection function and operational time via the 'Mobility Makers' integrated mobility platform.
So when will robots take over theme parks?
Disney is busy building bots, FlyZoo is putting automatons to work, and Edge Innovations is looking to replace captive dolphins and whales with droids. Despite that, we are some way off a Westworld experience.
Robot technology is still very much in development, but it has accelerated during COVID-19 as we look to limit person-to-person interaction. Advances in robotics and AI over the past five years suggest that bots could be in service at theme parks, aquariums, museums, zoos, and other attractions in the near future.
(Source: Blooloop https://blooloop.com/features/disney-robots/ )