Expo 2020 Dubai, opening in October next year, will explore the theme of 'Connecting Minds, Creating the Future'. Hosting the world for 173 days, it promises to be a celebration of innovation, collaboration and creation.

Sumathi Ramanathan is the global destination marketing director for Expo 2020. She spoke to Blooloop about how Expo 2020 Dubai promises to be an unmissable event.
Ramanathan previously worked as VisitBritain Director, Asia Pacific, Middle East & Africa (APMEA) and has 12 years experience in destination marketing. She says there are a lot of similarities between the two roles.
However, she says, "the difference is that where before I was driving visitation to an entire country, now I am looking at driving visitation to a mega event. But the core principles remain the same, though the scale and the size of Expo is completely different.
"In 2020, it is going to be one of the biggest destinations on Earth."
Driving visitation to Expo 2020 Dubai
Ramanathan is working with key travel intermediaries across the source market globally. Her role is to drive visitation over the six month period of Expo 2020 Dubai. The event has ambitious goals in terms of visitor figures and hopes to achieve 25 million visits. 70% of which will be coming from international markets.
"We currently have an outreach across at least 50 markets globally," says Ramanathan. "We're hoping that will be the key to driving some of our visitations to Expo over that period."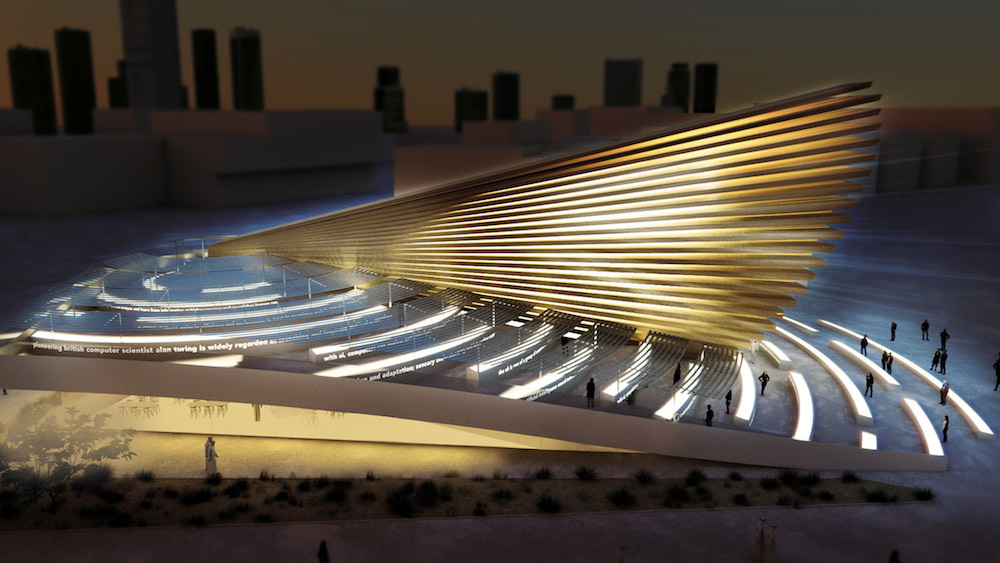 The UK Pavilion
Ramanathan is mainly focusing on key visitor markets and leading travel verticals. The core market with the largest amount of visitors is GCC. In addition, Europe also accounts for around 21% of visitors coming to Dubai. Priority markets within Europe include the UK, Germany, France and the Netherlands. North America and India are also key markets.
In addition to this, Russia and the CIS is a growing market, as well as Kazakhstan and Ukraine.
A full travel package
"In order for us to be able to deliver the numbers, we have to work across the entire travel vertical," says Ramanathan. "While people are coming to experience Expo 2020 Dubai, they're also coming for the destination.
We need the entire package supplied: flight, accommodation. So, working very closely with different travel verticals is crucial for us. This includes online travel agencies, tour operators, travel agents, airlines and cruise companies.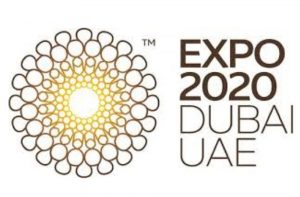 "This is the first World Expo where there will be a higher percentage of international rather than domestic visitation. This means working closely with all these travel intermediaries to be able to drive the visitation."
The Expo is focusing on two sales channels. As well as direct business to consumers, where tickets can be purchased directly, it is also working with travel intermediaries and B2B sales channels.
"Over the past 18 months we've been going out to source markets to speak to all of these different verticals," says Ramanathan. "We need to ensure that they understand Expo. And also that we are able to help them and support them in terms of packaging this experience before the visitors come through."
Expo 2020 Dubai – a truly global experience
For the first time in world Expo history, there will be 192 countries participating. Ramanathan says, "Instead of promoting one country, I have this incredible opportunity to promote 192. All of which will be bringing a Pavilion."
The pavilions at Expo 2020 Dubai will be microcosms of the countries they represent. Each country will also have the opportunity to showcase its latest technology. This will be organised around the three key sub-themes for the show. These are mobility, sustainability and opportunity.
As well as this, Ramanathan says, "each country will be bringing their culture, their design aesthetics, their heritage, their music and cuisine."
A focus on food
"A lot of people travel for food, and Expo has a fantastic food offering, says Ramanathan. "We have just over 200 F&B outlets and at least 54 different types of cuisine. So whether you're interested in French of Caribbean cuisine, or even bangers and mash, you can get all of this at Expo. The range of offerings is incredible. From fine dining restaurants and bistros to takeaways, from 'grab and go' outlets to food halls."
A connecting point for cultures
In the current divisive political climate, the celebratory, unifying ethos of Expo 2020 Dubai is a breath of fresh air. Its theme is 'Connecting Minds, and Creating the Future.'
"The UAE and Dubai historically have always been a connecting point for cultures. Right now, we have more than 180 nationalities who live, work and call Dubai home. So, it's already a multicultural melting-pot that connects people. The theme is very apt for Dubai. It's about creating a positive and optimistic future through connection."
Themed pavilions and thematic districts
As well as each country having its own pavilion, the event will also operate several unique, themed districts.

The main site of Expo 2020 Dubai will be a 438-hectare area between Dubai and Abu Dhabi. The master plan, designed by the American firm HOK is organised around a central plaza surrounded by three thematic 'districts'. Each district is dedicated to one of the sub-themes of Expo 2020. These are Opportunity, Mobility and Sustainability.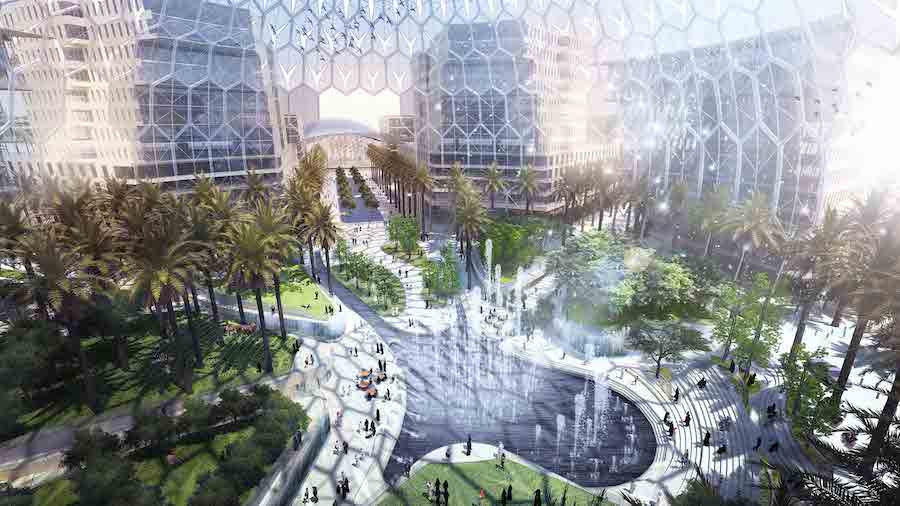 The Opportunity Pavilion
Ramanathan explains what these themes mean. "Opportunity is the driver of development. So, it enables individuals in communities to fulfil their potential and shape the future.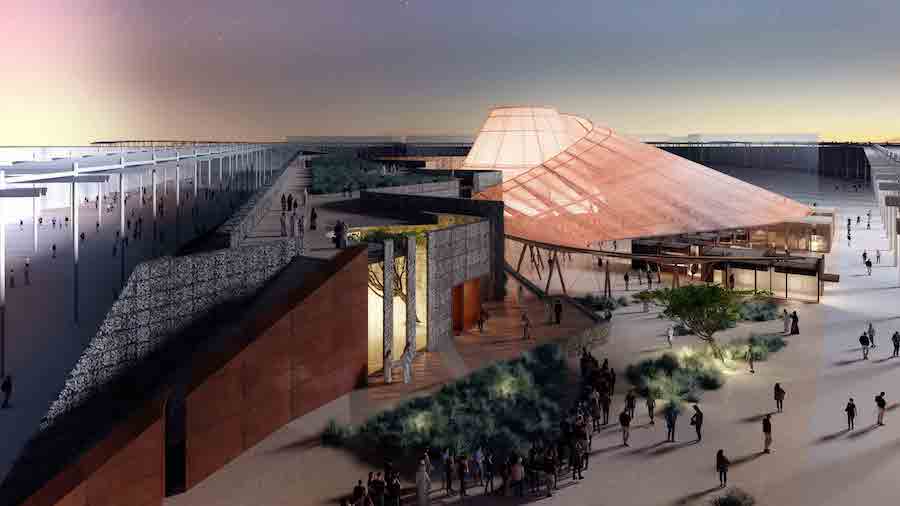 "The Opportunity schematic is going to be exploring the United Nations' 18 sustainable development goals. Participating countries get to choose which theme they explore. So, any country choosing the 'opportunity' theme will be curating experiences around the UN's sustainable development goal."
The Opportunity Pavilion is designed by Australia-based Cox Architecture. It is built of timber, stone and rope. It also uses gameplay to challenge the visitor's thinking on issues around creating a better world.
"Using gaming, everyone will be able to go in and explore how the future could be. It's about encouraging people to take a look at the impact that they have on the world. It's done in a very interesting way, using gaming technology and artificial intelligence.
The Mobility Pavilion
The Mobility Pavilion is all about the past, present and future of movement. It explores the connections between people, between groups and ideas. How do we get easier access to markets, knowledge and innovation?
Ramanathan says, "Anything in terms of trade, in terms of cities of the future, in terms of movement of data. All of this will be explored in the mobility theme."
Many countries have elected to adopt the 'Mobility' theme. Oman, for example, has based its pavilion design on the Frankincense tree.
"It's quite remarkable, because the frankincense tree was the main reason, originally, for people to come to Oman. So the theme of the pavilion of Oman takes a look at how the movement of trade and goods created the civilisation and the country that it is today.
Another example is Poland's pavilion. This uses AI to explore the theme of migrating birds. It also looks at living in balance with the world.
The Sustainability Pavilion
Ramanathan says the Sustainability Pavilion is one of the most remarkable buildings on the site. Named 'Terra', it draws visitors into a compelling story of our relationship with nature and our impact on Earth.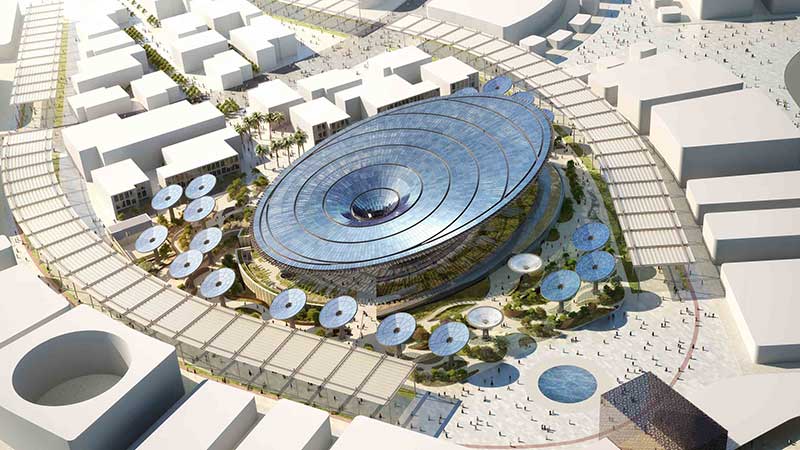 "The journey will involve going to a forest, or going to an ocean. It's about being inspired to preserve the world for future generations. The themes are created to enable countries to showcase the best of their advanced technologies. But also to cause every visitor to stop and reflect. To encourage them to think about how what we do has an impact on the world.
"It's actually magical."
"You are in this immersive environment where you are taking in quite a lot of information", adds Ramanathan. "It's done in such an engaging and interactive way. This is the kind of curation activation that we really need to be doing. It gets people to start thinking about these key topics. And I think that's where Expo really delivers. It is about inspiring people to take different actions to create a better future for all of us."
Outreach and inspiration
With around 18 months to go until Expo 2020 Dubai, Ramanathan's team has been undertaking outreach programmes in the different continents.
"The reception has been incredible, says Ramanathan. "And, interestingly, while we have a very strong program for business visitors and trade, this is also an Expo for families, and for couples on their honeymoon.
"If you come and stop over for a few days at the Expo you will have a honeymoon in 192 countries. You can take your kids on holiday anywhere. However, if you bring them to the Expo, a young child might go into one of our Mobility Pavilions and come out inspired to be an astronaut."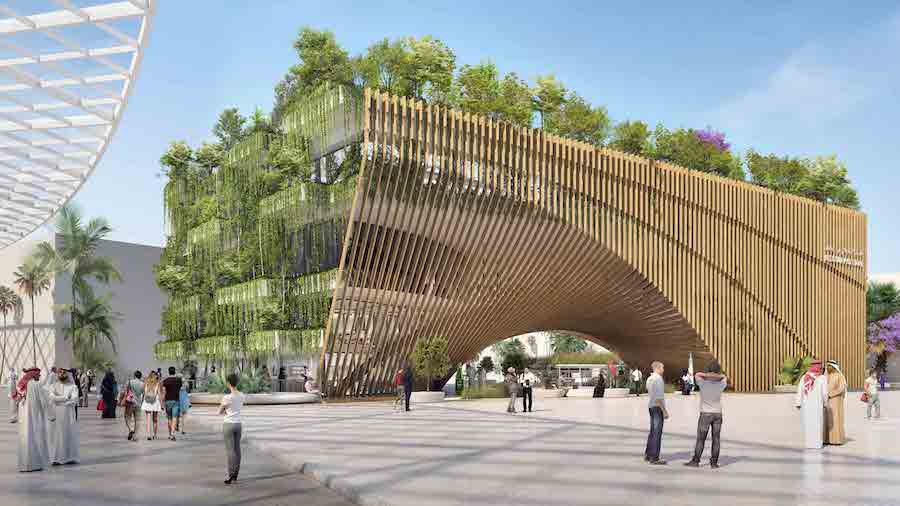 The Belgium Pavilion
An inspirational expo
Ramanathan is passionate about the inspirational power of the pavilions. "That's how incredible those exhibitions are going to be. A child could come into the Sustainability Pavilion and walk out of it wanting to be a marine biologist. So the World Expo is so much more than a holiday an opportunity for fun. It inspires the game-changer in everyone. The edutainment will really change your perspective of the world.
"You'll be leaving absolutely inspired by some of the incredible innovation that we're showcasing. The offering will be amazing for couples, millennials, students, leisure visitors. It will also be for business visitors, and the incentive industry as well."
The Expo will feature 60 live events and cultural performances each day. In addition to this, over the 173 days, each country will hold its own National Day celebration.
The legacy of Expo 2020 Dubai
District 2020 is the event's legacy development. The idea is a sustainable mixed-use urban environment that will encourage creativity, collaboration, and innovation. The focus is therefore on an innovation-driven business ecosystem and a balanced lifestyle.
Ramanathan says, "The overall aim is to create a long-term legacy of collaboration and innovation for human progress. We see it in terms of four pillars: economic, physical, reputational and social".
"More than 80% of Expo 2020's infrastructure will have practical value long term in the future as part of District 2020."
The aim of the development is to support key industries. For example tourism, logistics, transport and education.
Ramanathan is certainly looking ahead to a successful event. "Expo 2020 Dubai will help the UAE Vision 2020 achieve some of its goals. It will do this by increasing tourism and developing innovative business. It will also contributes to the country's international reputation, as a location to do business."
In conclusion, she says, "The world is coming to Dubai in 2020."
(Article: Blooloop https://blooloop.com/features/expo-2020-dubai-sumathi-ramanathan/)